Tuesday, May 19, 2020
9th Annual William Davidson Medical Education Week at OUWB School of Medicine
Medical Education Week highlights innovative research and advancements in medical education at Oakland University William Beaumont School of Medicine.
Its purpose is to honor faculty members who contribute to the improvement of medical education. The diverse and multifaceted program includes presentation of poster abstracts and prominent speakers from the medical education field who are invited to share insight and expertise.
OUWB's Medical Education week exists in large part because of the late William Davidson, a successful businessman and founder of Palace Sports and Entertainment. In late 2007 Davidson initiated plans to donate $1 million to Beaumont with the express direction that the money be used to support medical education under the direction of his doctor and friend, Sandor H. Shoichet, M.D., FACP, program director, Internal Medicine Residency and medical director of Outpatient Clinics at Beaumont Hospital, Royal Oak, and associate professor of Medicine at OUWB. Davidson died in 2009 at 86.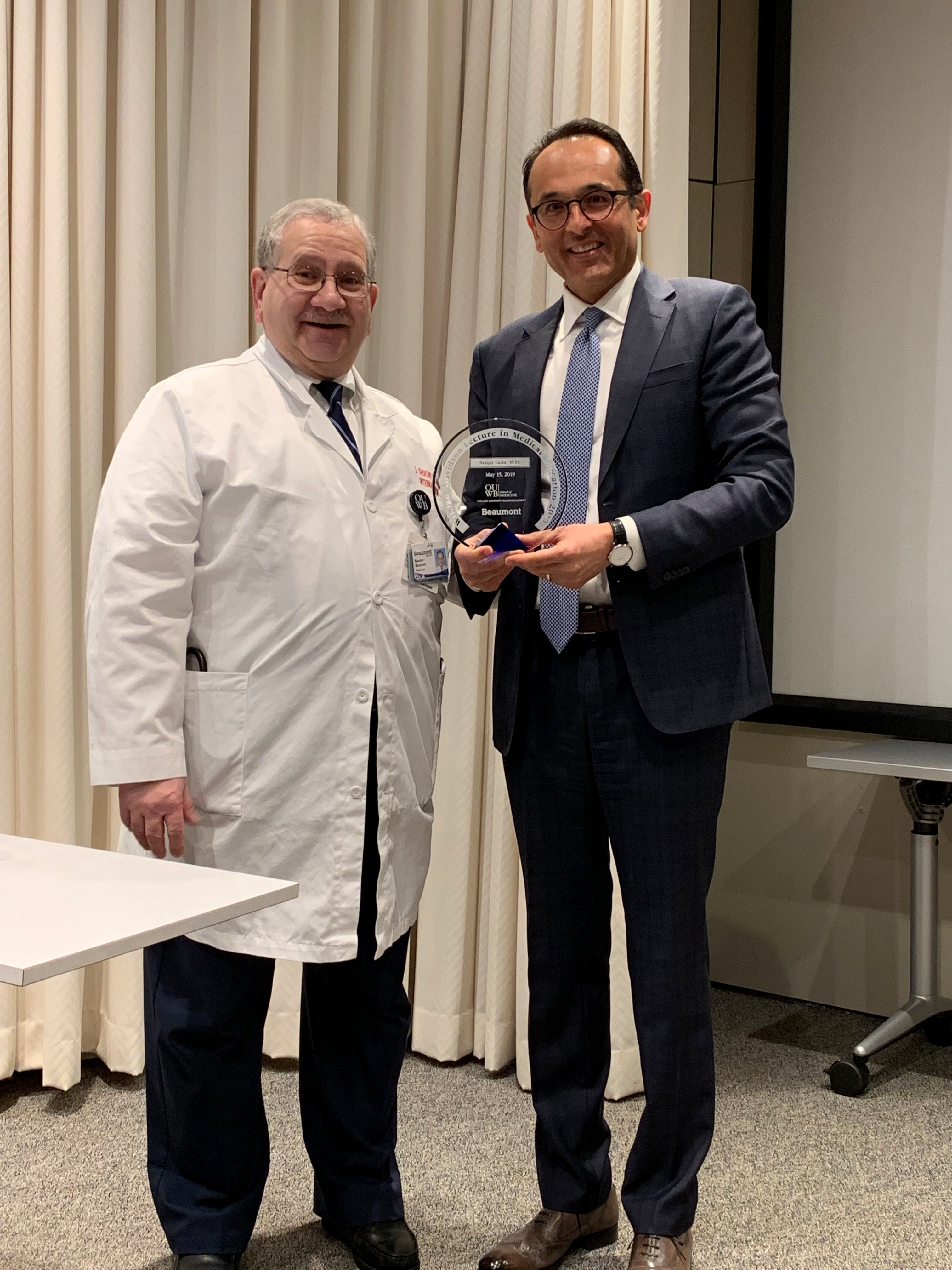 Davidson's generosity and the vision of Shoichet — who co-chairs Medical Education Week with Ann Voorheis-Sargent, Ph.D., director, OUWB Center for Excellence in Medical Education (CEME) — enabled Beaumont the opportunity to permanently endow faculty development, an area that many institutions recognize as important to an educational endeavor's ongoing success, though one that often lacks adequate resources.
One of the ways the endowment accomplishes its mission is by sponsoring a nationally esteemed medical educator to be the week's distinguished speaker in Davidson's name. (Shoichet is shown with last year's speaker Sanjay Saint, M.D., MPH.)
OUWB's Medical Education Week also features poster abstracts reviewed and selected by the poster committee based on clarity, organization, and applicability to education. This year's theme was "A Look Into the Future."
OUWB's Medical Education Week traditionally is held over the course of three days at Beaumont Hospital, Royal Oak.
As a result of the COVID-19 pandemic, however, the previously scheduled in-person components of the 9th Annual William Davidson Medical Education Week had to be cancelled for the safety and health of participants.
Still, the educationally innovative work done in anticipation of the event should not go ignored.
For that reason, we present the work below.
2020 Poster Winners
"Geographical Bias in Preclinical Medical Education: An Analysis of USMLE Step 1 Review Materials" Danielle Reynolds, B.S., Julia Kerwin, B.S., Haley Smallwood, B.A., Gustavo Patino, M.D., Ph.D. (Click image to view larger PDF.)
"Wellness from Within (the Curriculum): Eliciting and Applying Medical Student Feedback" Kristin LeMarbe, Aviv Spllinger, Jonathan Dokter, Evan Brickner, David Thomas, Ph.D., Sandra LaBlance, Ph.D. (Click image to view larger PDF.)
2020 Posters: The Best of the Rest
For more information, contact Andrew Dietderich, marketing writer, OUWB, at adietderich@oakland.edu. 
Follow OUWB on Facebook, Twitter, and Instagram.
NOTICE: Except where otherwise noted, all articles are published under a Creative Commons Attribution 3.0 license. You are free to copy, distribute, adapt, transmit, or make commercial use of this work as long as you attribute Oakland University William Beaumont School of Medicine as the original creator and include a link to this article.